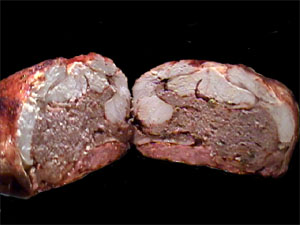 "Mr. Madden served the suspect item to the players immediately after the game and, although he referred to it by its full name, Vikings players were apparently too excited or hungry to realize that what they were eagerly devouring was, in fact, a roast turkey stuffed with a rotisserie chicken, a baked duck, and a deep-fried human head," Green Bay Police Chief Craig Van Schndyle told reporters.
"Place-kicker Paul Edinger, safety Darren Sharper, and quarterback Brad Johnson are among those being held for medical observation while we analyze the marbled gray matter in the 'oyster' stuffing, the makeup of what we originally thought was cranberry sauce, and the head itself."
Police are currently questioning Madden concerning how he obtained the head, whether or not he had help cooking the turhumanheaducken, and the current whereabouts of Monday Night Football statistician "Malibu" Kelly Hayes, who was last seen grocery shopping with Madden Saturday afternoon.